PUC Machine Diesel Smoke Meter
PUC Machine Diesel Smoke Meter
X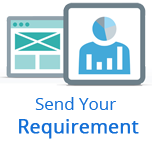 INDUS introduces a wire free operation of Smoke Meter
OMS – 103 for Remote and Tachometer.
ARAI approved best in class diesel smoke meter with magnetic RPM Sensor along with wireless function(optional) this smoke meter is very light in weight (8kg) and it is portable.

Salient features of Wireless Interface
Ø Cable Free and trouble free maintenance.
Ø Wireless operation of Remote and tachometer.
Ø Wide range of over or greater than 60 mts.
Ø Operates in 2.4GHZ frequency band using Zigbee Technology.
Ø Inbuilt Li-ion battery in Remote and Tachometer.
Ø Very low battery power consumption, longer battery life.
Ø Better mobility to carry & operate
Ø Easy to switch from wired to wireless operation.
Ø Easy switching back from wireless to wired operation during maintenance
TRINITY SALES & SERVICES
Unit 6 & 7, Gulmohar building, Agarwal Greenways Complex, Near Thakur Mall, Dahisar Check post, Mira road east, Mira Bhayandar - 401104, Maharashtra, India
Mr. Tushar Yogesh Parmar (CEO)